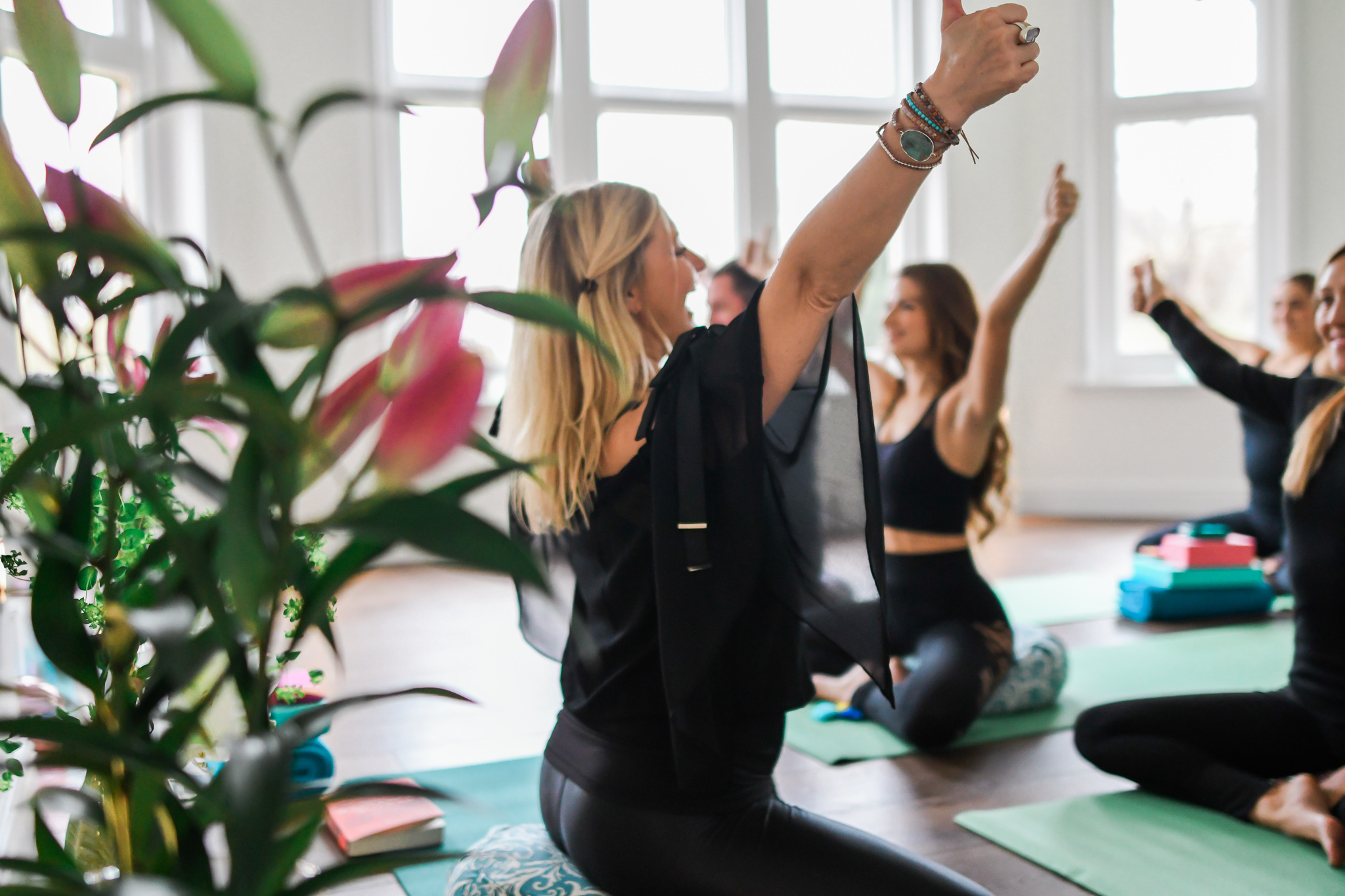 Welcoming You Back to Alchemise!
Re-Opening our Studio on Monday 17th May 2021.
Dear members and friends, as the country begins to lift lockdown measures we are really excited to be able to once again, offer you in-person classes in our beautiful studios, starting from 17th May. Throughout the Coronavirus pandemic we have followed the World Health Organisation, Government and Yoga Alliance Professionals' Governing bodies to ensure we keep you with the most up-to-date guidelines.
Something that has become very clear is we miss you all in-person so much and although we are very happy to offer you online and playback classes, which have worked really well, you just cannot beat the transmission feelings you receive while practicing in person!
We will be offering you a few ways of practicing with your favourite teachers while keeping both theirs and your health requirements our top priority. Moving forward you will be able to practice with us in various ways:
1) Live and in-person
2) Livestream classes (select classes)
3) Playback on-demand
Click here to see our schedule.
We recognise each of you may have unique personal circumstances and it is our wish to meet your requirements in the best way possible during these changing times.  To meet your needs we have created three new membership formats covering both in-studio and online classes.
Click here to see our memberships and pricing.
We hope you will feel happy and confident to join us, enjoying your practices, being back in your body with empowered mental and physical health. We look forward to some fantastic classes ahead.
Based on guidance from expert health organisations, government policy, UKactive and Yoga Alliance Professionals' knowledge of the running of yoga studios our studio policy is in place so you can have the best experience possible.
CLEANING AND SANITATION
* Our premisses are cleaned daily
* During lockdown we have had a deep clean and all blankets, eye pillows and equipment have been washed and removed (for now)
* Our cleaners sanitise all door handles, touch-plates & toilet handles daily
* Reception staff sanitise handles and reception areas between sessions
PROTECTIVE MEASURES
* Wash your hands before coming to the studio
* Please arrive at the studio dressed ready for practice
* Wear your facemask upon entry (not for classes)
* Hand sanitiser is available, use some upon arrival (handwashing preferable)
* Be clean and showered every day, especially before coming to the studio
* Showers at the studio will not be available for use
* Bring minimum belongings with you
* Use your own water bottle
* Sanitise your mats after your session
MASKS
* You may choose to wear a mask in reception or chill-out space
* It is not advised to wear a mask during practice, this doubles your uptake of CO2, reducing blood oxygen levels and is a detriment to your health
* Please inform our teachers if you have any underlying health conditions
STRUCTURE OF IN-PERSON PRACTICES
* Yoga/ Pilates mats will be positioned two metres apart – we trust your common sense here
* Place the centre, of the top of your mat, directly on top of the floor makings provided
* Controlled class sizes, limiting numbers will be in place, determined by the size of the room with mats separated by 2m each
* Please bring your own mats, props, equipment
* Please use cleaning sprays available to clean your mat and props after each use
* Studios are cleaned daily and between classes
* There is a fifteen-minute transition period between sessions
* We are blessed with great air conditioning which will be on between classes (or during)
* Windows will be open for fresh air
CHECKING-IN
* Please arrive as close to the class starting as possible, no more than ten minutes early for classes
* Wait in our newly furbished chill-out space or go straight into the studio
* We will check you in on the studio floor
* Pre-pay and pre-book your classes
* We are a cashless company – please pay online
YOUR PROMISE
* Please do not come to the studio if you or someone in your family has symptoms
* Do not come to the studio if you are shielding
* Do not come to the studio if self-isolating
* Get checked if you are unsure about your health
* Be responsible for your personal hygiene
* Wear clean clothing
* Wash/sanitise your hands before classes
* Pre-book classes
* Respect others' space and social distance
* Enjoy your classes
OUR PROMISE
* To keep you informed of any suspected Covid cases
* Maintain good communication and transparency
* Put your health and safety first
* Maintain a clean, sanitised building and studios
* Keep up-to-date with Government guidelines
* No hands-on assists or partner work
* Help you enjoy classes and your community
* Listen to your concerns
* Welcome and value you