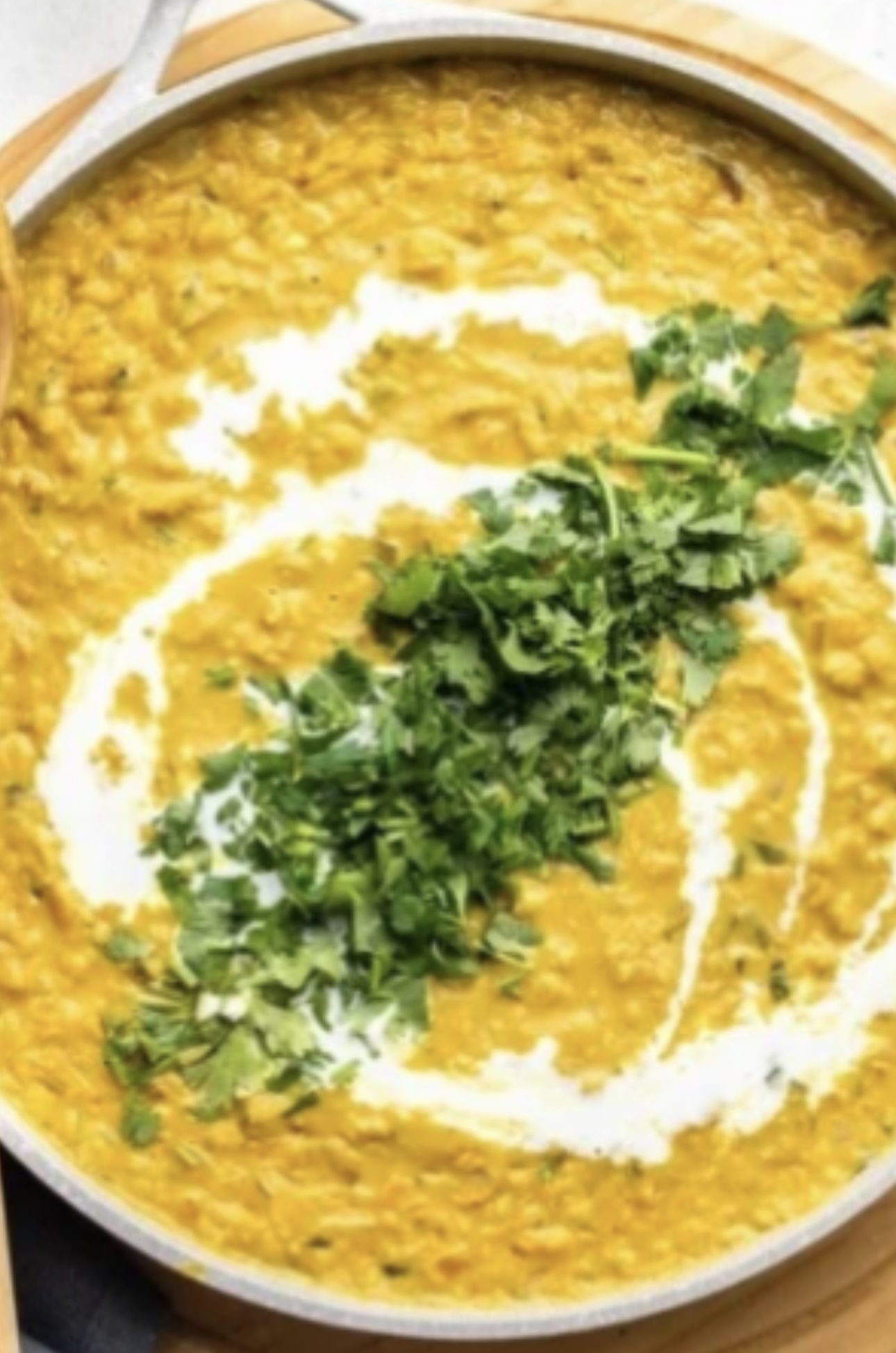 Creamy Coconut & Red Lentil Curry
Vegan & Gluten Free
A beautiful creamy red lentil curry with just eight ingredients and ready within thirty minutes. A super-cosy, flavoursome & hearty meal. Great for your digestive system
Featuring creamy coconut milk, protein-packed red lentils & aromatic herbs & spices, creating a comforting, satisfying and completely good for you dish which tastes, divine!
Serves 4-6
Ingredients:
1 small yellow onion, diced
3 garlic cloves, minced
1 tablespoon of ginger, finely minced
1/2 bunch of coriander, stems & leaves divided, chopped
1 tbsp salt-free curry powder
1/4 to 1/2 tsp cayenne pepper
1 1/3 (309g) organic red split dry red lentils
1 tin (398 ml) full fat coconut milk
2 cups (470 ml) low-salt vegetable broth & 2 cups of water (filtered or spring)
Serving suggestions: cooked basmati rice, naan or roti, Autumn slaw side salad
INSTRUCTIONS:
Bring a large pan to medium heat, add a splash of cooking oil or vegetable broth. Add onion & saute until translucent, 3-5 mins
Add garlic, ginger & chopped coriander stems to pan & saute 1-2mins. Then stir curry powder & cook a further minute. Rinse red lentils briefly, add to saucepan with the coconut milk, vegetable broth & stir to combine
Bring to boil over high heat, then reduce heat to medium-low & simmer with lid on for 18-20 mins, until lentils are tender, stir occasionally to ensure even cooking and flavour distribution
Decorate with additional coconut milk & left-over coriander leaves. Serve warm with rice or as desired
Left overs keep refrigerated for upto 5 days or freeze for upto a month
ENJOY!
You are Golden!